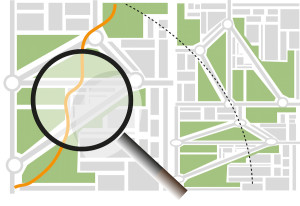 One of the things people often get confused about when trying to get their acupuncture website ranked on Google is understanding all of the different areas of the Google search results.  In this article I want to help you understand the Google search results page, what each part corresponds to, and how you can get your website into those areas.
Google General Search Type
The first thing I want to do is just talk about search terms in general.  When you type in a search phrase in Google, it tries to best determine what it is you are looking for.  For the purpose of this article, we will discuss 2 types of searches.  The first one is a general search phrase.  This could be something like "acupuncture", or "acupuncture benefits", etc.  Looking at these phrases, it's pretty easy to figure out that the person searching for those terms wants to know more about acupuncture.  below is an example of what a general search results page looks like.  It typically ha a list of search results.  In this case, there is also a link to a recent article from medicalnewstoday that is focused at the top.  Sometimes, there will even be some sponsored links that will show a little yellow "Ad" next to.  These sponsored links are results in which people pay each time someone clicks on their link.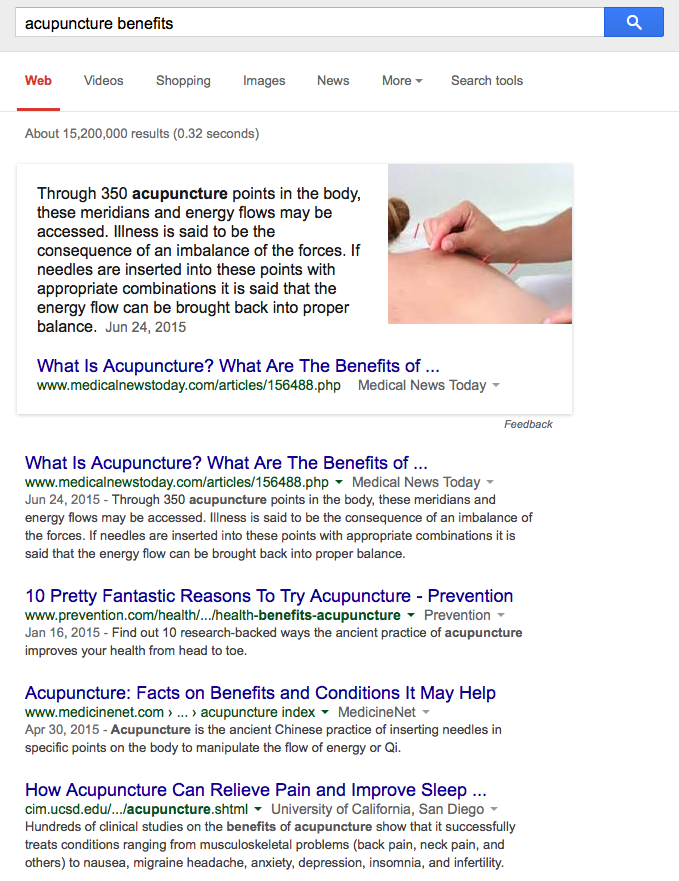 Google Location Based Search Type
The other search type would be a location based search and this is really the important one for our purposes.  A location search is basically a general search with a location attached to it.  One example and the example we use here is "acupuncture tampa" or "acupuncture clinic tampa".  When someone searches for a general term with a location attached to it, we can rather easily guess that someone is trying to find services in their area.  In this case, we are trying to find an acupuncturist in Tampa.  Google realizes this so it adjusts its search results page a little bit.  Now, in addition to showing the standard search results for the term "acupuncture tampa", it creates a new area at the top of the page that uses the Google Places database to show businesses in and around Tampa.  Thing of Google Places as the old yellow pages directory.  It is essentially a database of businesses that it uses to show when a location based search is entered.  Below is a screenshot of "acupuncture tampa".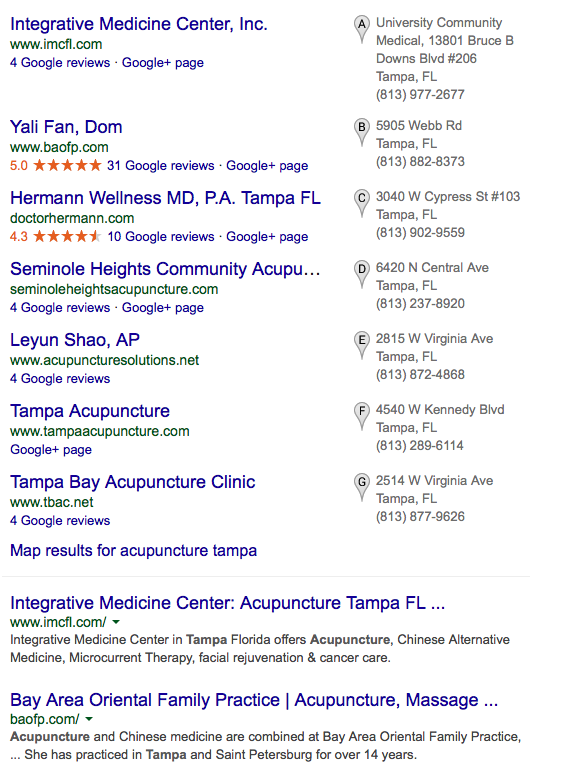 Now, here is the secret… If you or someone you know has never submitted your business to Google Places, you will not appear in these search results (usually).  It's a simple thing, but it can make a big difference in how much business you generate online.  And here is the great part…. Its FREE to submit your business!  You can setup your business page by clicking here.
Remember when I said "if you or someone you know has never submitted your business to Google Places, you will not appear in these search results (usually)"… the keyword in that statement was usually.  Most of the time, unless you submit your business, it won't be in the Google Places directory.  Sometimes though, if your business appears in another directory like yellowpages.com or Yelp, Google may have already setup a generic Places listing.  In this case, if you find your business on Google Places already, be sure to click the "This is my Business" link and verify you are the owner.  That way, you will have the ability to respond to reviews and manage the photos on your places listing.
I hope this helps you understand how Google Places is important for your acupuncture clinic.  Be sure to download Marketing Your Acupuncture Clinic Cheat Sheet for more great tips on how to market your acupuncture clinic.  Also, I would love to hear from you so leave a comment below and say hi or if you have a question, please let me know in the comments area and I may decide answer it in an article. Your clinic is your clinic… Take action steps every day to take it to the next level.