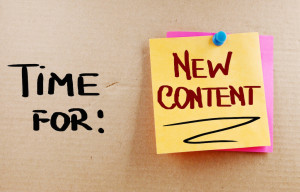 One thing that we have seen become increasingly important on websites in the last 5 years is the importance that search engines place on your website content.  Years ago in the late 90's/early 2000's you could just stuff a bunch a of keywords on your websites and the search engines would pick you up and rank you for those search terms.  Over the years, things have changed and this tactic nowadays will actually hurt your website and may cause it to be banned from the search engines.
So, the question becomes, how do I market my acupuncture website effectively?  The answer is really easier that it may appear.  You have to decide to provide valuable content to your website visitors.  In one of our other articles we talked about what pages you should have on your acupuncture website.  If you missed it, you can check it out here.  In this article we will focus more on content that doesn't give service information to your visitors (phone numbers, services, pricing, location, etc) but instead provides your website visitors with helpful information about Acupuncture.
The Money Is In the Blog
What I am basically talking about is blogging or writing articles about acupuncture.  The more information your website has about acupuncture, the better it will fare on the search engines. Many people who visit your acupuncture website may not have very much knowledge about acupuncture. You on the other hand have spent years studying and learning the techniques and acupuncture points that will help treat your patients.  Share some of that knowledge you have with the world.
Any good website platform should have the ability to blog.  If yours does not, I suggest that you find a platform that will allow you to do so.  One of the things that Google places importance on is the "freshness" of the content on your website. In other words, how often is your website updated.  The more often you add content to your website, the more apt Google is to re-index your website and improve your search rank.
I Don't Have Time To Write Articles
I know what you're thinking… "I don't have time to write articles".  The truth is that you can't afford not to.  In today's competitive world, almost every acupuncture clinic has a website.  How are you going to get your clinic to stand out from the competition.  There is an old saying that says that the top 1% of people earn 50% of the income.  You get into the top 1% by doing the things that the other 99% aren't willing to do.  Investing an hour once or twice a week to writing articles for your blog will set you and your practice apart.
As always, be sure to subscribe to our newsletter so that you won't miss any of our valuable content that we share on our site.  Do you have a question you would like answered or just want to say hello?  Please comment below.  I look forward to hearing from you!