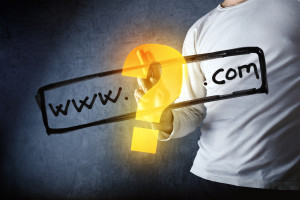 Over the years, I have helped a lot of acupuncturists jump start their businesses by creating a website that ranks well on the search engines.  One of the most important pieces and often overlooked elements of good search engine rankings for your acupuncture website is the domain name or the URL  (Example: www.MarketingYourAcupunctureWebsite.com).
Shouldn't I just use my practice name as the website name?
Picking the right domain name for your acupuncture clinic can sometimes mean the difference between ranking in the top 4 search rankings and ranking 5-10 or lower.  You might ask yourself, "Shouldn't I just use my practice name as the website name? That's my name, why not use it?".  While it's not necessarily bad to use your acupuncture clinic name as your domain name, you can often dramatically improve your search engine rankings for great keywords important to your practice just by picking the right now.
If I shouldn't use my clinic name as the domain name, what should I use?
Picking the right domain name requires getting into the mind of your potential patients.  The best thing to do is to think about how you search for services on the internet. Your website should be actively targeting new patients who don't already know about you.   If you know the name of the business you are looking for, you logically type in the business name in order to find their website.  But what about the services you look for when you don't know what businesses are out there? Think plumbers, electricians, dentists, etc..  How do you search for them? What do you type in?  I would venture to guess that you probably type in "plumbers" + your location (ex: plumbers Tucson).
Search engines place a lot of weight on the domain name in relation to any particular search term.  Do you see where I'm going with this?  The best domain name for your practice would be something like acupuncturetuscon.com or tusconacupuncture.com.  By picking a domain name like this, you will automatically gain a lot in terms of search engine marketing.  It is possible that someone may already have the domain acupuncture + your location .com so think about some other possibilities like acupunctureclinictuscon.com or acupuncturisttuscon.com etc.  As always, be sure to like us on Facebook so you can keep up with all of our tips on marketing your acupuncture clinic.